System introduction
There are 2 system images for Lichee MaixSense(which will be called R329 below)
| Image name | armbian | Tina |
| --- | --- | --- |
| Description | A lightweight Debian for arm development board | Linux system created by Allwinner Based on OpenWRT1404 |
| Feature | Linux mainline, mutiple contents | Tiny os |
| Target users | Geeker, or newer | Customization requirements developer |
For armbian system image it's required to use sdcard over than 4GBi
For Tina os it needs sdcard over than 512MBi
Low speed sdcard will lead a bad experience
Get image
armbian system image
Download armbian system image from MEGA :https://mega.nz/folder/1B4RFKpK#X0tMwHLHFQJvJ9POt_lXtg
The image named with maixpy3 means this image has installed MaixPy3 and its related drivers
This image file is created by dd. So we use Etcher to burn our image card.
Tina system image
Tina os need to be compiled by yourself, visit https://github.com/sipeed/R329-Tina-jishu for imformation.
Burn system
Burn armbian image
Get software
Burn steps
Extract your downloaded image file to get the .img file, run Etcher, click Flash from file, choose the extracted .img file, click Select target and choose your sdcard, click Flash to burn your sdcard, wait it for finishing.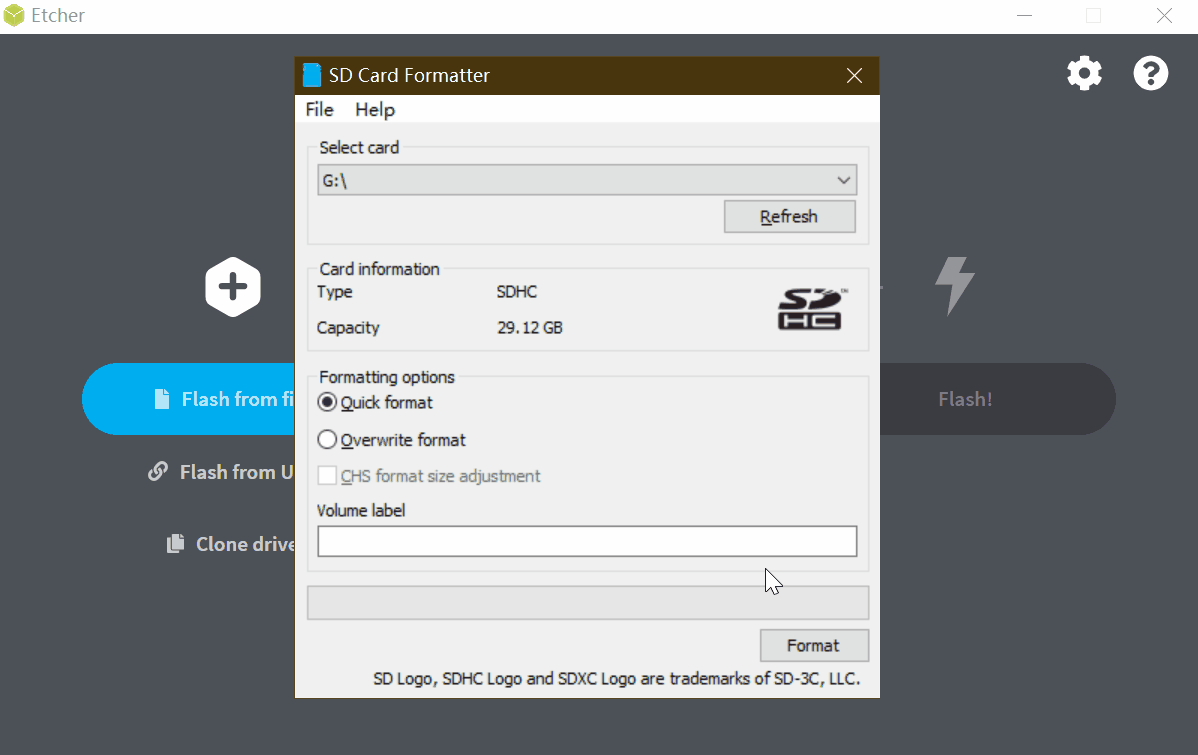 If failed burning, try to format your sdcard. For Windows and macos users we suggest use SD Card Formatter to format sdcard, while for linuc users can try Gparted.
Burn Tina image
Its burning steps are the same as MaixII Dock, visit Buring MaixII-Dock OS for detailed steps.